Apartments
Manor House offers five exclusive suites situated on the 2nd and the 3rd floor. Design idea is taken from the historical castle and manor life model, where bedroom space group is developed with several rooms: boudoir before bedroom, bedroom itself, bathroom and cloakroom. All suites feature elegant décor, luxurious 5-star facilities, pale bathroom with luxury toiletries and heated floors in Estonian Dolomite. Both two storey suites on 2nd floor (each 80 square meters) create a private and peaceful mood, however two suites on the 3rd floor (each 62 square meters) have romantic nature. In the centre of second floor is a family lounge or Map room, where walls are covered with historical maps from previous centuries. Here you can come together and watch widescreen TV or listen music lying down on the huge grey hippopotamus leather couch.

MASTER SUITE
The most exclusive is spacious two-storey Master Suite: 60 square meters bedroom with huge Meridiani bed, glazed tile fireplace on parquet floor, high ceilings and thee windows with balcony to park side, living room (64 square meters) has own terrace (52 square meters) with a view to lake, office on 2nd floor, own steam room in marble bathroom (20 square meters) with silk curtains and many other amenities. Master Suite is romantic and luxurious place to spend your memorable vacation. You'll enjoy complimentary champagne and the very special gift from Rumene Manor.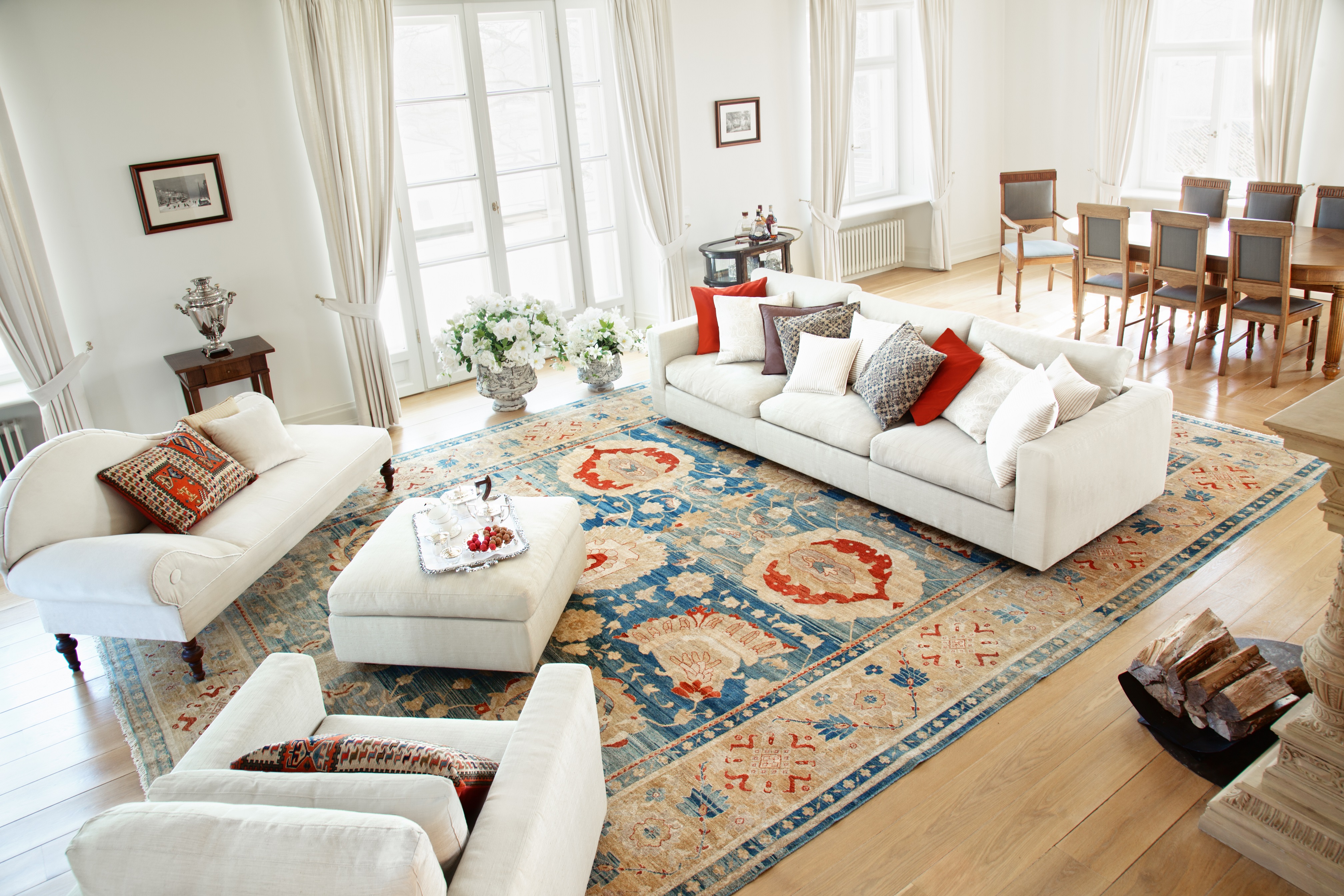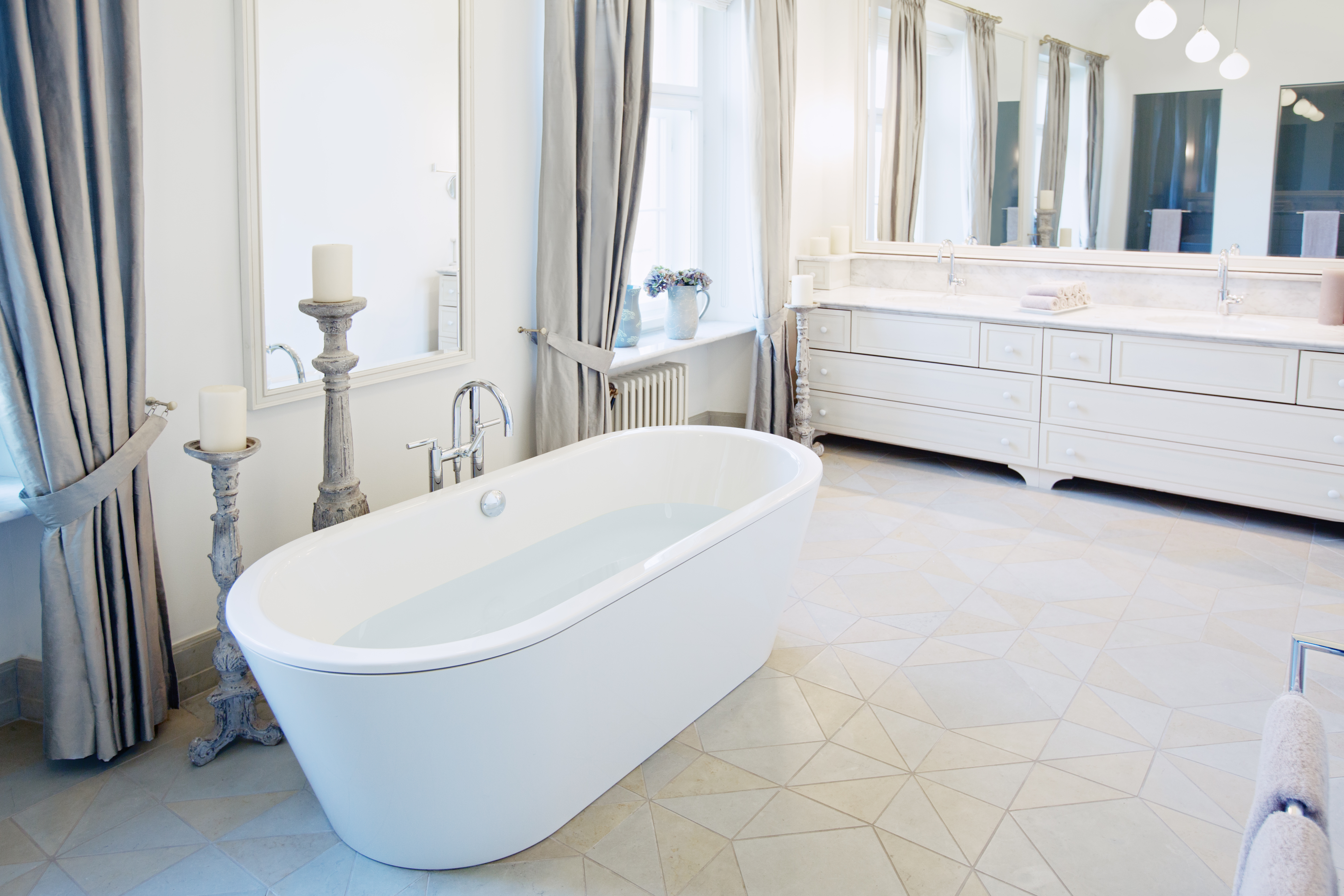 TWO-STOREY APARTMENTS
Two luxurious two-storey (Divstāvu) apartments are located on the upper floors of the left side of the manor house. Each apartment covers 80 square meters and provides guests with an especially relaxing atmosphere. Both apartments have oak flooring and ornate wool carpets. The first-floor living spaces feature comfortable couches upholstered in natural Thai silk and a cast iron stove for a rustic touch. Light-coloured pine steps lead up to the white bedroom, which is furnished with antique chests and wardrobes. The wooden framework and beams of the house form part of the décor and the special lighting creates a pleasant atmosphere. The bathrooms are spacious and light-filled. All bathrooms feature full amenities, including sinks, a toilet, a bidet, a bathtub and a shower. The windows have marble sills and are adorned with silk curtains.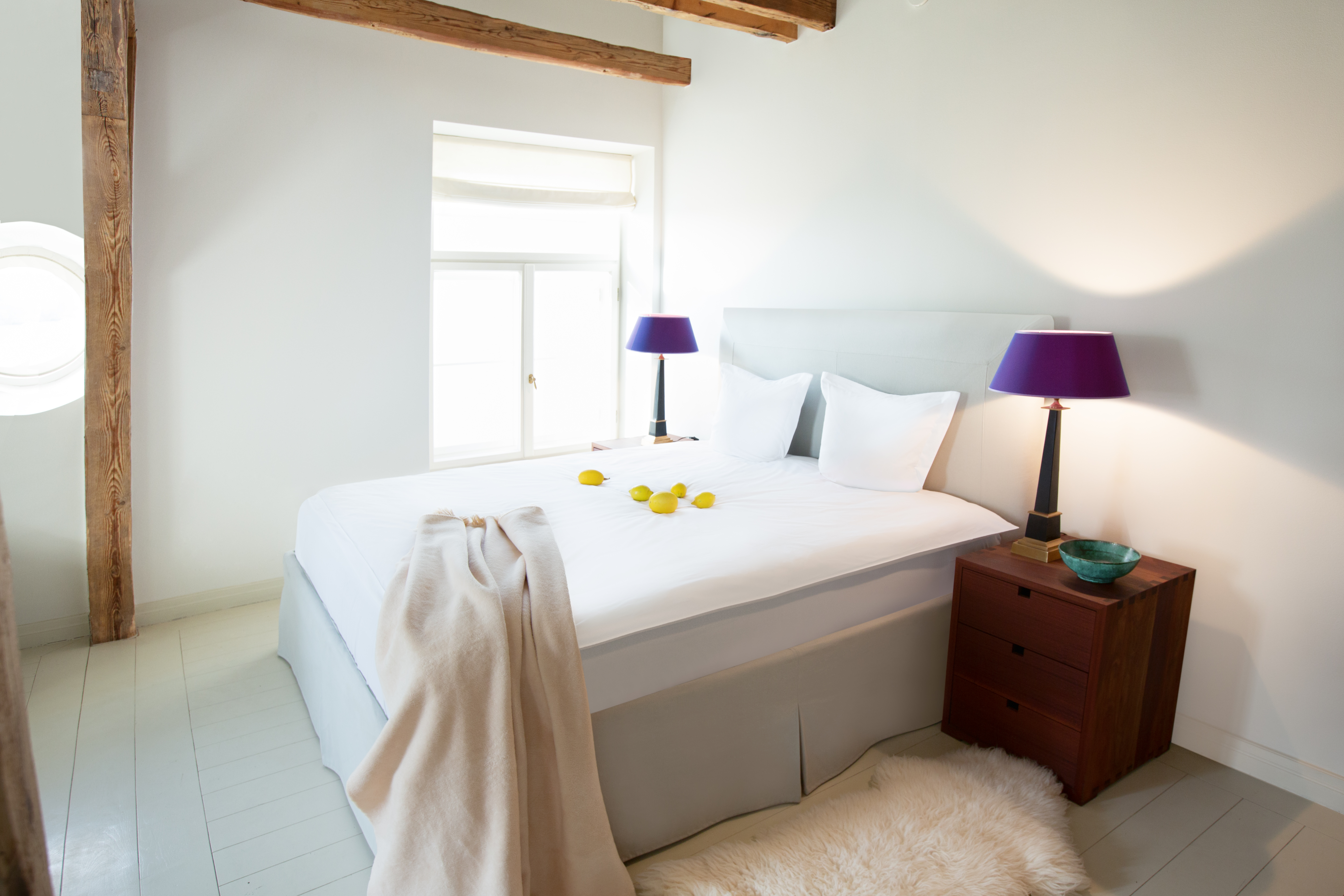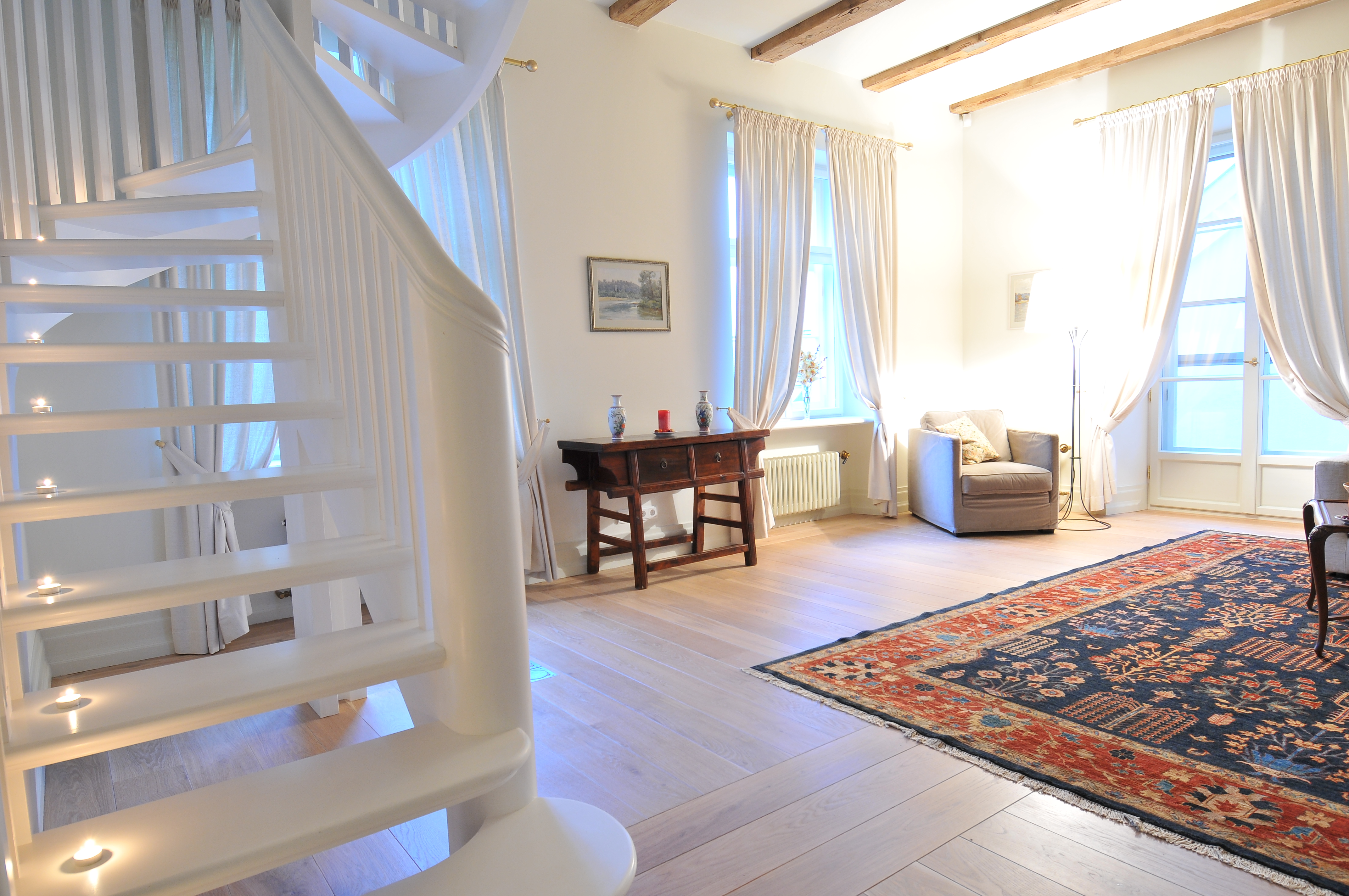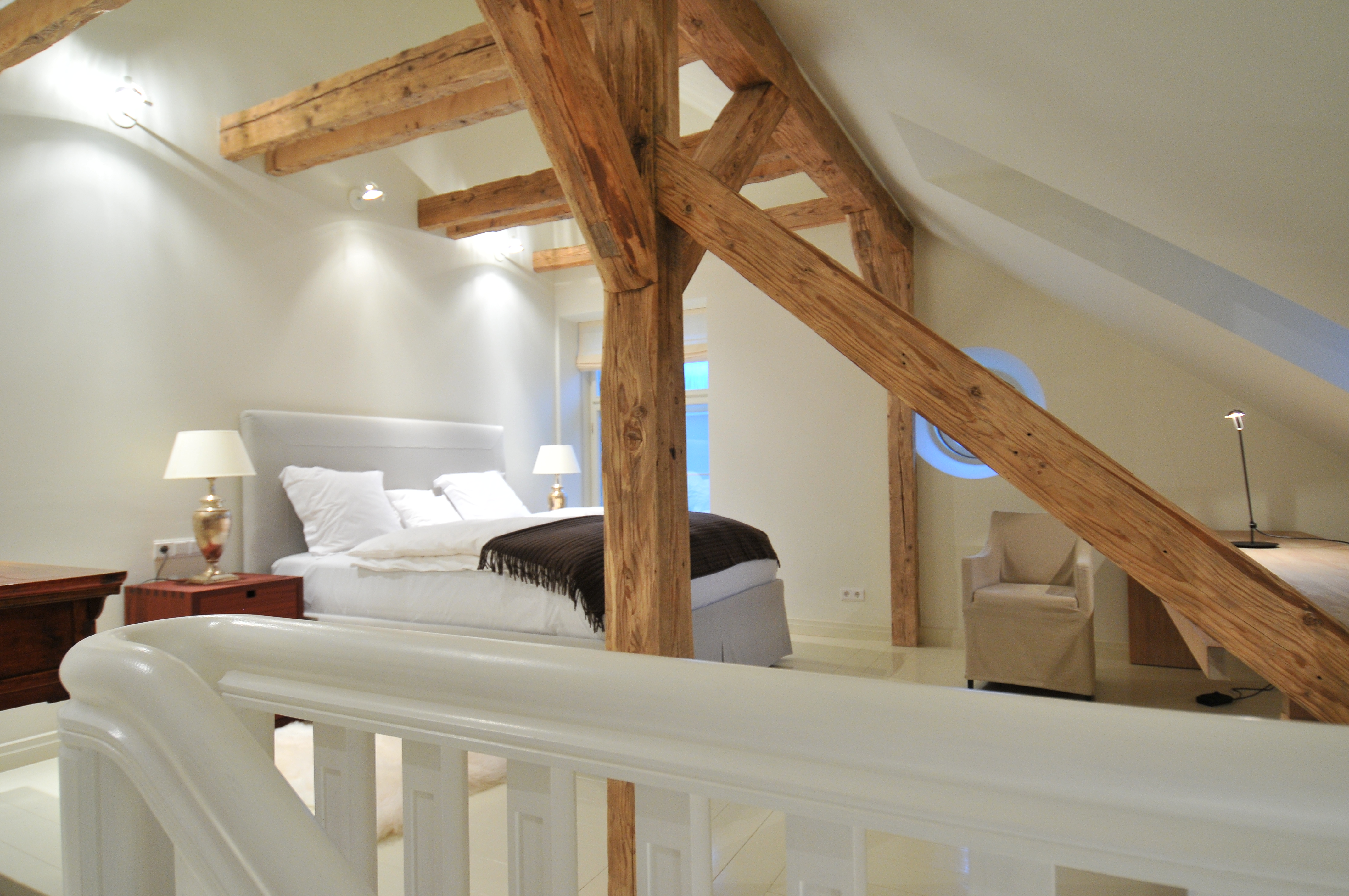 ROMANTIC SUITE
Treat yourself and a loved one to a romantic escape at Rumene Manor. Relax in each other's company and create a little romance for just the two of you. For those who wish for privacy, romantic atmosphere and sensitive, long lasting unforgettable experiences and memories, we offer elegant and comfortable two mansard Apartments on 3rd floor (each 62 square meters). Each room is completed with wide bedroom, cozy Orizzonti bed and ceiling windows for a romantic view on starlit sky. Enjoy a delightful romantic retreat from a champagne toast in your Apartment to a sumptuous a la carte breakfast on a terrace and a gourmet candlelit dinner in one of the Salons for just the two of you.